If you can't find what you're looking for here, we have many contacts across North America and Europe to help you find your dream horse!
Friedrich – SOLD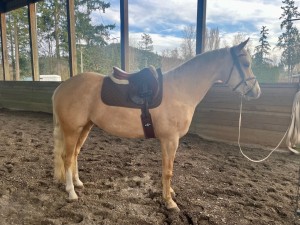 "Fred" is a lovely registered 2018 AQHA gelding. He is a wonderful young horse with a great brain. He is coming along every day, a gorgeous mover, will be an excellent hunter! Fred is a darling young horse, the dream prospect. He is keen learner, won't take much to turn him into the dream amateur horse.  He has been in professional training since October 2021. Would suit a confident Jr/Am rider.
Finale (Fokusz x Formaat) - For Lease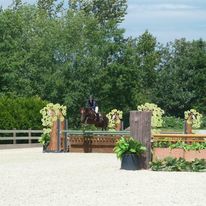 "Nale" is a been there done that, mature Dutch Warmblood mare. She is by Fokusz, a Grand Prix stallion we imported from Hungary in the late 90s, and out of a Dutch Warmblood mare Jen showed in the High Performance Hunters. Nale has been in the family from the day she was conceived. She was Petra's main show horse for 10 years, doing everything from the BC Summer Games, High Performance Hunters/Derbies, Big Eq, and jumpers up to 1.20m. Safe to say Nale has been around the block once or twice! She is an exceptional horse. Takes a joke, always goes, there is nothing dirty abut this mare! She is best suited to a Pre Child/Adult lifestyle now, however she still has lots of go left in her!
La Tootle (Glock's Toto Jr x Maraton 600) - SOLD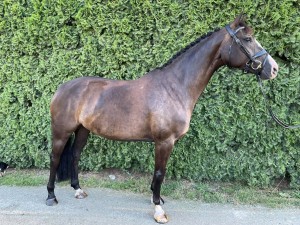 "Tootles" is an exceptional quality 2016 KWPN mare. She is catty, brave, and personable. Likes people more than horses, will make someone an excellent partner! Tootles free jumps to 1.50, coursing around 1m currently with loads of scope. She has spent a few weeks at Thunderbird and MREC, she is the same horse at home as she is away. She could go in any direction. Make her your next open GP horse, or Small Junior/Performance hunter. Would suit a confident Jr/Am in a program. Priced in the mid five figures to increase with experience.
Golden Boy 99 – SOLD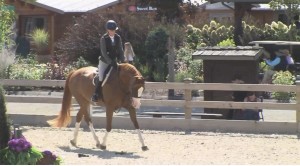 "Peter" is a gorgeous 2012 RSPI gelding. Chrome for days, one rhythm, great jump. Peter is the quintessential hunter. Scope for the performance/derby ring. Schooling around 3'6 courses easily. Sadly he got a later start to showing, 2021 season he was shown in the A circuit baby greens with good results. He also was shown by a young woman in the Pre-Child/Pre-Adults and was excellent! This horse has a fabulous future, he will make a name for himself. Priced mid-high five figures.
Galahad Z (Gid' Up Winchester x Radja Z) - SOLD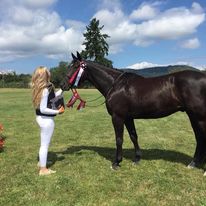 "Big Three or "Bubs" is the dream amateur horse. 2013 16H Zangersheide gelding. He was purchased as a 2 coming 3 year old and has been solely produced by Pink Coat Equestrian. Nothing phases this guy! Super sound, safe, and reliable. Very well broke. Shown through First Level with scores in the 70s. Schooling Third Level with loads of ability for more. Very supple and easy to ride, FABULOUS change. He was many championships at the local and gold level with a junior rider, including  2018 VS Cadora Training Level Junior Year End Champion as a 5 year old. Priced Mid Five. 
Maisey May and Peach – SOLD
Maisey is a darling 13.2H appaloosa mare. She is just so special!  Maisey was rescued from slaughter heavily in foal. Since then, she has foaled out a massive palomino filly named Peach. Maisey has been started under saddle, and has not put a foot out of line. We would love for them to go together, however know that is not always possible. Peach is weaned and ready to go. Maisey would make an excellent kids horse, she is extremely kind and loves affection!
Sir Royal (Sir Donnerhall x Donnerhall)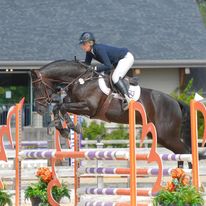 Sir Royal is a 16.1H imported Oldenburg gelding.
He is just the sweetest guy. LOVES people, really wants to please, will do just about anything for a mint. Takes any joke, not a mean bone in his body. Shown up to 1.10 last summer at Thunderbird and was fabulous (and extremely competitive). Also shown through third level dressage, I can do two tempies on him with no tack!
His only vice is he needs a buddy at the in gate when you're showing. He would love an ambitious Jr/Am to bring up to the 1.20ms.
One year lease priced in the low-mid fives.